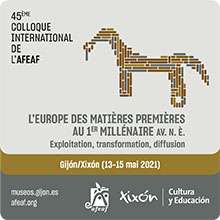 45ème colloque international de l'AFEAF

Colloque international

, by Jean-Michel Colas
L'Europe des matières premières au 1er millénaire av. n. è. Exploitation, transformation, diffusion.
13-15 mai 2021
Lieu du colloque
Gijón (Espagne)
Cher(è)s collègues,
Le colloque AFEAF de Gijón aura lieu aux dates prévues du 13 au 15 mai 2021, quelle que soit l'évolution du contexte sanitaire.
L'inscription (Présentiel ou Visio) est prolongée jusqu'au 30 avril 2021.
Pour ceux qui souhaitent participer en présentiel les coûts liés aux activités du colloque (excursion, repas) seront à régler uniquement sur place en espèce ou en chèque. Aucun frais n'est donc à régler à l'avance hormis l'inscription au colloque.
Nous vous rappelons que l'inscription au colloque est donc obligatoire pour y participer quel que soit le format.
Le formulaire d'inscription est à renvoyer impérativement par voie numérique à l'adresse suivante : afeafgijon@gmail.com
Pour les réservations d'hôtel voir la fiche Hébergement AFEAF :

- Tarifs valables pour les réservations directement auprès des Hôtels en indiquant l'événement de référence : colloque AFEAF Gijon 2021
- Vous pouvez consulter les informations sur les hôtels sur leurs pages Web ou sur 
 :
www.gijoncongresos.com / www.asturiascongresos.com.
Le comité d'organisation du colloque
—
Dear Colleagues,
The AFEAF colloquium in Gijón will take place on the scheduled dates 13 to 15 May 2021, regardless of the evolution of the health context.
Registration in Face-to-face or Video format has been extended until 30 April 2021.
For those who wish to participate in person, the costs related to the activities of the conference (excursion, meals) are to be paid directly on site in cash or cheque. There is no need to pay in advance except for the registration to the conference.
We remind you that registration for the conference is mandatory to participate in any format.
The registration form for the conference must be returned digitally to the following address: afeafgijon@gmail.com
For hotel reservations, see the AFEAF Accommodation form:
- Rates valid for reservations directly with the Hotels indicating the reference event : AFEAF Conference Gijon 2021
- You can consult the information about the hotels on their web pages or on
www.gijoncongresos.com / www.asturiascongresos.com
—
Estimados colegas:
El coloquio de la AFEAF de Gijón se celebrará en las fechas previstas desde el 13 al 15 de mayo de 2021 independientemente de las circunstancias impuestas por el contexto sanitario.
La inscripción (en Presencia o Virtual) se ha ampliado hasta el 30 de avril de 2021
Para los que deseen participar en persona, los gastos relacionados con las actividades de la conferencia (excursión, comidas), se pagarán directamente in situ en efectivo o con cheque. No hay que pagar nada por adelantado, salvo la inscripción a la conferencia.
Le recordamos que la inscripción a la conferencia es imprescindible para participar en cualquier formato.
El formulario de inscripción en el coloquio debe enviarse exclusivamente por correo a la dirección: afeafgijon@gmail.com
Para reservar un hotel :
- Tarifas válidas para reservas directamente con los Hoteles indicando el evento de referencia : Conferencia AFEAF Gijón 2021
- Puede consultar la información sobre los hoteles en sus páginas web o en :
www.gijoncongresos.com / www.asturiascongresos.com
El comité de organización del coloquio.
—