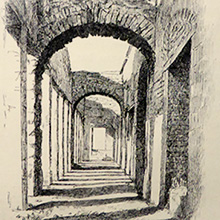 Archives of the Villa Diomedes Project
Archives of the Villa of Diomedes in Pompeii (1771-2019)
, by Agnès
The website Villa Diomede Project : Archives of the Villa of Diomedes in Pompeii (1771-2019) provides access to the archives of the Villa of Diomedes in Pompeii over 250 years, from the documentation of the initial excavation conducted by Francesco La Vega (1771-1775), to the field data produced by the international Villa Diomedes Project program, under the direction of Hélène Dessales (2012-2019).
It accompanies the first monograph devoted to the villa: H. Dessales (éd.), The Villa of Diomedes: the making of a Roman villa in Pompeii, Paris, 2020.
• The corpus of ancient archives
It includes all the graphic (plans, sections, elevations, perspective views and copies of paintings) and photographic documentation, from the end of the 18th century to the middle of the 20th century. In total, more than 550 documents of a very diverse nature have been gathered to date. It is the most significant body of work by architects and artists accumulated on a Pompeii building.
• The field photographs
The complete photographic coverage of the villa (more than 5000 photos) was produced by photographer Thomas Crognier between 2013 and 2016. In addition, 850 orthoimages, mainly taken as part of the Grande Progetto Pompei, as well as work photos produced by team members (2011-2019). Objects from the villa and kept in various museums are also found there.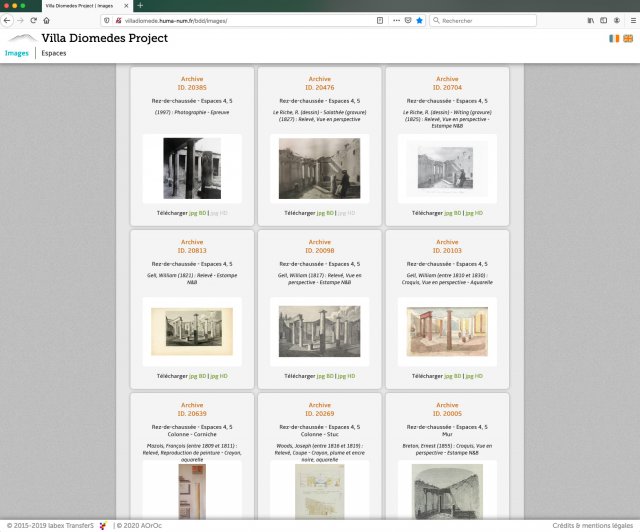 • Alignment of ten reference plans
The numbering of the villa's spaces varies according to the plans that have been drawn up over time, making the bibliographic study and documentary cross-checking concerning it difficult. Here we provide a system for matching space numbers, from 10 building reference plans, from the initial excavation period of the 18th century, to the Villa Diomedes Project program (2010s).
• Stratigraphic analysis of the building
The objective of the stratigraphic analysis of the building was to determine the relative chronology of the various construction sites of the villa. It was systematic in certain emblematic sectors of the evolution of the villa (front walls and south-eastern area of ​​the ground floor). From time to time, US have also been allocated to other spaces, in order to record traces of decor (paintings, mosaics) and thresholds.
This is raw data: the interpretations are necessarily less precise than those proposed by the publication.
As for the registration of construction techniques, we refer to the ACoR database.
The SPACES database is linked to that of the images: once the concordance of spaces is displayed, a button allows direct access to all of the corresponding graphic documents.
---
This site can be viewed in 3 languages ​​(French, English, Italian). Only the comments included in the image notices remain in the original language of the entry, French. The stratigraphic analysis, made available in PDF format, has not been translated either.
The consultation is free, without connection required. However, for copyright reasons, access to certain documents is limited. For any request, please contact us by email.
---
• Publication editor: Hélène Dessales (ENS – Université PSL)
• Responsible for electronic publishing : Agnès Tricoche (CNRS – AOROC)
• Project design : Hélène Dessales and Agnès Tricoche
• Development and management of the databases : Agnès Tricoche
• Website creation : Agnès Tricoche
• Web host : Huma-Num