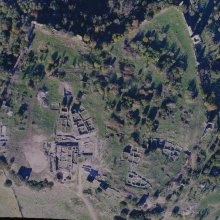 Leopoli Cencelle (Civitavecchia, Italy)
, by Agnès
The archaeological site of Leopoli-Cencelle is located in the Northern Lazio (Italy) between Tarquinia (VT) and Allumiere (RM), 80 km northwest of Rome and 12 km northwest of Civitavecchia. Sapienza University of Rome has been conducting an archaeological
survey in the area since 1994, with annual digging campaigns that have provided a framework of this Medieval city from its consecration in 854 CE until the 17th century.
From 2019, other institutions were associated with research, the University of Chieti, the AOROC UMR 8546-CNRS-ENS, the University of Picardy Jules Verne and the University of Bologna Alma Mater Studiorum.

The city, one of the few Italian Centres of Papal Foundation, is located on the top of a hill 160 m above sea level, between the rivers Mignone and Melledra . As stated in the Liber Pontificalis of the Roman Catholic Church, the foundation of Leopoli-Cencelle was attributed to Pope Leo IV. The Pope founded Leopoli-Cencelle as a new civitas, aiming to provide hospitality and safety to the inhabitants of Centumcellae (the modern harbor of Civitavecchia) after having been attacked by the Saracens (Medieval Islamic raiders).
The location of the new city afforded access to natural resources, such as water and building materials (i.e. stones and sand). The archaeological investigation of the South-eastern area also recovered settlement areas associated with specific activities (i.e. blacksmith, ceramic workshop, bell production, cereal grinding).
Archaeological investigation in the South-eastern area, close to St. Peter's Church, revealed a graveyard consisting of burials within sarcophagi made of stone slabs and in earthen graves.
The study of the remains of the skeletons is currently underway by the Laboratorio di Antropologia Forense, University of Rome 2 Tor Vergata.

Website :
https://web.uniroma1.it/cencelle/
Contacts :
francescaromana.stasolla@uniroma1.it
sara.nardi.combescure@ens.psl.eu