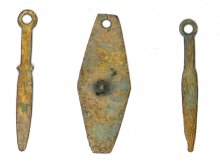 Miniature weapons : a diachronic approach across ancient Europe
Workshop
, par Léonie Maillet
Le 27 octobre 2023, 14h-18h30, en ligne.
ID de la réunion : 378 186 298 997
Clef d'accès : vRRYoe
Organizers : Raimon Graells I Frabregat (Universitat d'Alacant), Elisabeth Goussard (UMR 8546 Aoroc-CNRS-ENS-EPHE, Eveha), Azzurra Scarci (Leibniz-Zentrum für Archäologie)
The phenomenon of miniaturisation happens to be reinvented in several chrono-cultural areas. It is thus well-suited to a diachronic and transversal approach, which we propose to explore during an online workshop devoted to miniature weapons.
The aim of this workshop is to explore the different aspects of these objects, during Protohistory and Antiquity, from North-Western Europe to the far reaches of the Greek world. It will address the question of their function, their place in ritual and votive practices, as well as the contexts of their discovery.
We will develop our reflections during four sessions :
- The first will address methodological and theoretical issues concerning these objects (from the criteria of their recognition to their anthropological interpretation)
- The following sessions will focus on the different geographical areas in which these objects are konw : the Greek world (session 2), the Italic and Iberian world (session 3), and finally North-Western Europe (session 4).